Info Morsleben and public tours
The Info Morsleben is located in the immediate vicinity of the repository. The centre hosts an exhibition and organises tours, lectures and events on a regular basis.
Address and registration for public tours
Amalienweg 1
39343 Ingersleben OT Morsleben

Phone: +49 39050 97525
Fax: +49 39050 97612
Email: info-morsleben@bge.de
Openig Hours
| | |
| --- | --- |
| Monday to Thursday: | 9:00 to 15:00 |
| Friday: | 9:00 to 14:00 |
Information about the public tours
Public tours take place from Monday to Friday. Groups of up to 15 people aged 14 or older can register for a tour of the mine. The waiting time for a tour can amount to several weeks, so please book early. Please keep in mind that special climatic conditions exist underground and these can affect the cardio-vascular system. A certain level of basic physical fitness is also necessary, since part of the route is covered on foot. You can call the Info Morsleben for information about our public tours. We also have more information for you in our tour information leaflet and in the info centre itself.
Travel subsidies for educational institutions
Educational institutions can receive a travel cost subsidy of up to €200 per visit. The available budget is limited. The subsidy will only be granted if your stay in the info centre lasts for at least 2 hours. The subsidy may be applied for in writing upon presentation of the invoice from the contracted transport company. The offer is exclusively for groups which find it impossible or unreasonable to travel to the minesite with private cars.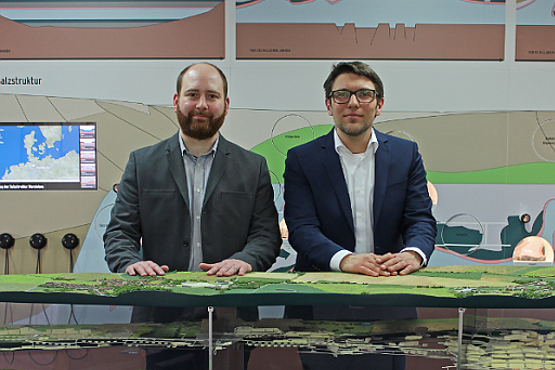 Info Morsleben team: Helge Essert, Michael Lohse (l-r)
Visitors in the Morsleben repository