Konrad repository info centre and public tours
The Info Konrad is the information centre of the Bundesgesellschaft für Endlagerung (BGE) for the planned Konrad repository. Interested persons can obtain information there about Konrad projects and ongoing processes. They can also take a tour of the mine itself. The exhibition ranges from a glass gallery and 3D models to animations, touchscreen applications and a cinema, all of which give visitors an overview of the planned Konrad repository.
Address and registration for public tours
Chemnitzer Str. 27
38226 Salzgitter
Phone: +49 5341 8673099
Fax: +49 30 18333-1285
Email: info-konrad(at)bge.de
Opening Hours
Monday to Thursday:
9:00 to 17:00
Friday:
9:00 to 15:00
Information about the public tours
Public tours take place from Monday to Friday. Groups of up to 15 people aged 14 or older can register for a tour of the pit. The waiting time for a tour can amount to several weeks, so please book early.
Please keep in mind that special climatic conditions exist underground and these can affect the cardio-vascular system. A certain level of basic physical fitness is also necessary, since part of the route is covered on foot. You'll find more information about our public tours in our tour information leaflet or in the Info Konrad.
Travel subsidies for educational institutions
Educational institutions can receive a travel cost subsidy of up to €200 per visit. The available budget is limited. The subsidy will only be granted if your stay in the info centre lasts for at least 2 hours. The subsidy may be applied for in writing upon presentation of the invoice from the contracted transport company. The offer is exclusively for groups which find it impossible or unreasonable to travel to the minesite with private cars.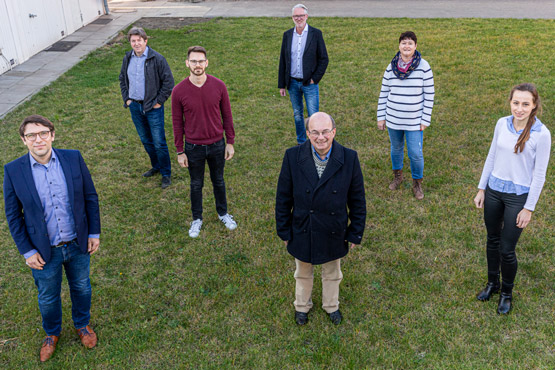 Info Konrad team: Christian Lampe, Klaus Loew,
Jessica Gieseke, Arthur Junkert (l-r)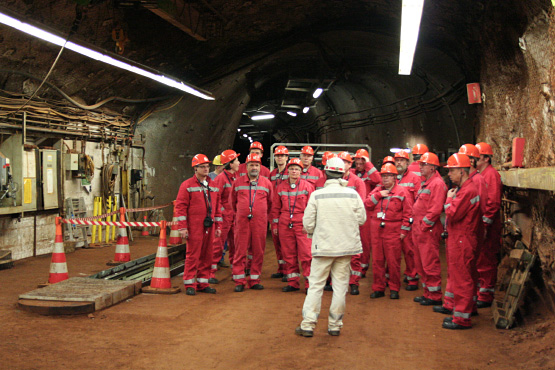 Visitors in the Konrad mine