Announcement - Special opening of Asse and Morsleben information centres
13 June 2017: The Asse and Morsleben information centres invite citizens to a special opening on this weekend
Within the framework of two special openings, visitors can get information about the retrieval of the radioactive waste from the Asse II mine and about the planned decommissioning of the Morsleben repository on this weekend.
Info Morsleben will be open on Sunday, 18 June, from 10 a.m. to 5 p.m., on the occastion of the "Salty Tour 2017" organised by the Magdeburg Tourist Association Elbe-Börde-Heide. At 3 p.m., staff members offer a tour of the exhibitions presented in the information centre. Subsequently, all persons present have the opportunity to exchange ideas about the Morsleben repository.
Info Asse already opens on Saturday, 17 June, from 10 a.m. to 4 p.m. If required, lectures will be held.
With their exhibitions, the information centres provide an insight in the complex history of the mines' utilisation and the current challenges of both projects as well as of radioactive waste disposal in general. The Info Asse and Morsleben staff are available for your questions and discussions.
You can also book a tour through either mine. Pease note, however, that it is not possible to tour the mine on this particular weekend.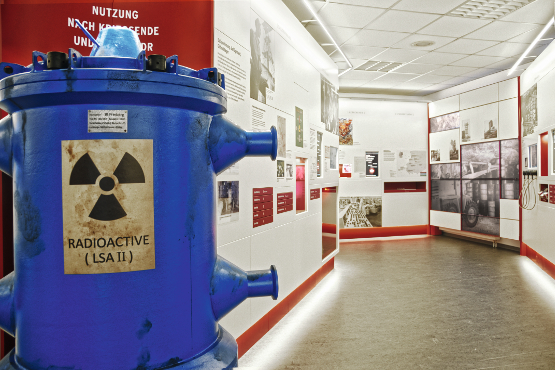 View of the historical part of the exhibition at the INFO MORSLEBEN