Information centre & tours of the Konrad repository
Info Konrad is the BGE's information centre for the planned Konrad repository. It can provide interested parties with information on plans, ongoing processes and tours of the Konrad mine.
The exhibition includes everything from a "glass gallery" to three-dimensional models, animations, touchscreen applications and even a cinema, and provides an overview of the planned Konrad repository.
Visits to the information centre and tours are free of charge.
Address and registration for tours
Chemnitzer Str. 27
38226 Salzgitter
Phone: +49 5341 4016050
Fax: +49 30 18333-1285
Email: info-konrad(at)bge.de
Please note:
Given the current situation in relation to the coronavirus pandemic, visitor tours are suspended until further notice.
Information on tours
Tours take place from Monday to Friday. Groups of up to 15 can register for a trip around the mine. Participants must be aged 14 or over.
Due to high demand, registration is currently subject to a waiting period of over 10 weeks. We therefore ask that you contact us to arrange a date as soon as possible.
Please note that the specific climatic conditions underground put a strain on the cardiovascular system. Basic physical fitness is required, as part of the journey is completed on foot.
For further details of the tours, please consult our tour leaflet or inquire by telephone or on-site at Info Konrad.
Travel allowance for educational institutions
Educational institutions can apply for a travel allowance of up to €200 per visit. The budget available for this is limited. An allowance can be granted if a stay of at least two hours is planned.
Applications for the allowance should be made in writing and accompanied by the original invoice from the contracted transport company. The allowances are aimed exclusively at groups for whom travel in private cars is unreasonable or impossible.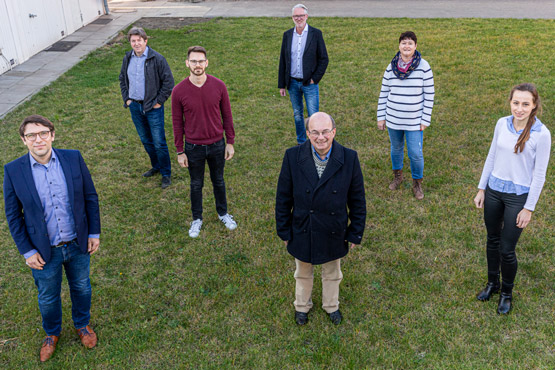 The Konrad information centre team: Michael Lohse, Klaus Wild, Christian Meißner, Christian Islinger, Johannes Schneider, Jessica Gieseke and Melanie Scholz (l-r)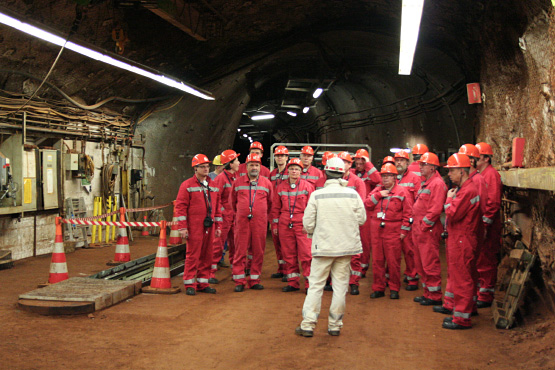 Visitors to the Konrad mine