BGE staff members come from different backgrounds: geologists, mining technologists, engineers, economists, electronics technicians, communicators and many others. Some work underground and operate large pieces of machinery, while others sit in front of screens in the office. Some are engaged in quiet behind-the-scenes planning, while others stand up at events to answer questions from the general public. But however different the various job profiles may be, they are united by one thing: the BGE mission statement.
This mission statement was drawn up by the BGE's employees and managers themselves, and every decision must be measured against it. Progress in implementing the mission statement is therefore scrutinised and advanced on an ongoing basis.
On this page:
We facilitate the safe final disposal of radioactive waste.
By doing so, we contribute to the protection of humans and the environment.
We make a key contribution to solving a sociopolitical problem.
At the BGE, we work to implement our projects responsibly and transparently and to ensure safe conditions both now and in the future.
This includes the retrieval of radioactive waste from the Asse mine and the mine's decommissioning, as well as the decommissioning of the Morsleben repository and the commissioning of the Konrad repository.
Our work also includes product control, which ensures that only approved waste packages are placed in storage, as well as selecting the best possible location for the final disposal of high-level radioactive waste materials and the implementation of national and international projects with our subsidiary BGE TECHNOLOGY GmbH.
For us, safety comes first. This includes not only occupational safety and health but also operational and long-term safety.
We seek to strengthen our position as a qualified and recognised partner for the final disposal of radioactive waste.
Company
We want to be a modern and agile company. We achieve our goals quickly and efficiently through slender processes that allow us to work hand in hand across sectoral boundaries.
Within the framework of directives and regulations, we work autonomously and handle public funds responsibly.
As a learning organisation, we have a positive error culture.
We create a motivational, appreciative and family-friendly working environment.
Expertise
We strive to be a nationally and internationally recognised centre of excellence in final disposal. We employ highly qualified staff.
Long-term personnel development, promotion of young people, and targeted training of our employees ensure retention of the necessary expertise as well as knowledge transfer within the BGE.
We collaborate with universities and universities of applied sciences and pass on our expertise in order to ensure that we have continued access to personnel with first-rate training.
Society
Our dealings with politics and society are characterised by openness and transparency. These qualities are important when it comes to site selection and final disposal in order to build trust in our expertise and in our actions.
We report openly on our work in a spirit of self-awareness and acknowledge the concerns of the general public.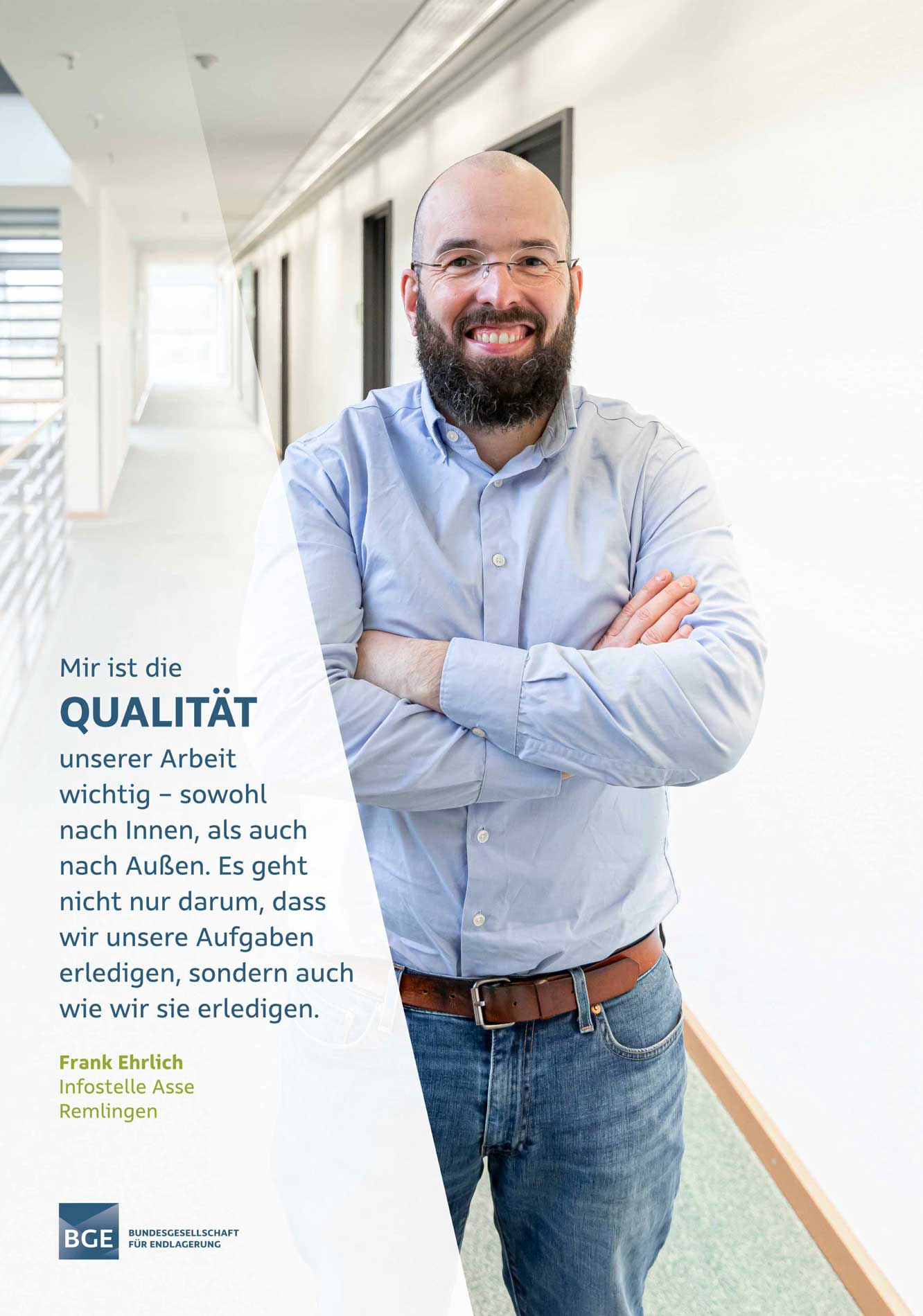 What we do to achieve this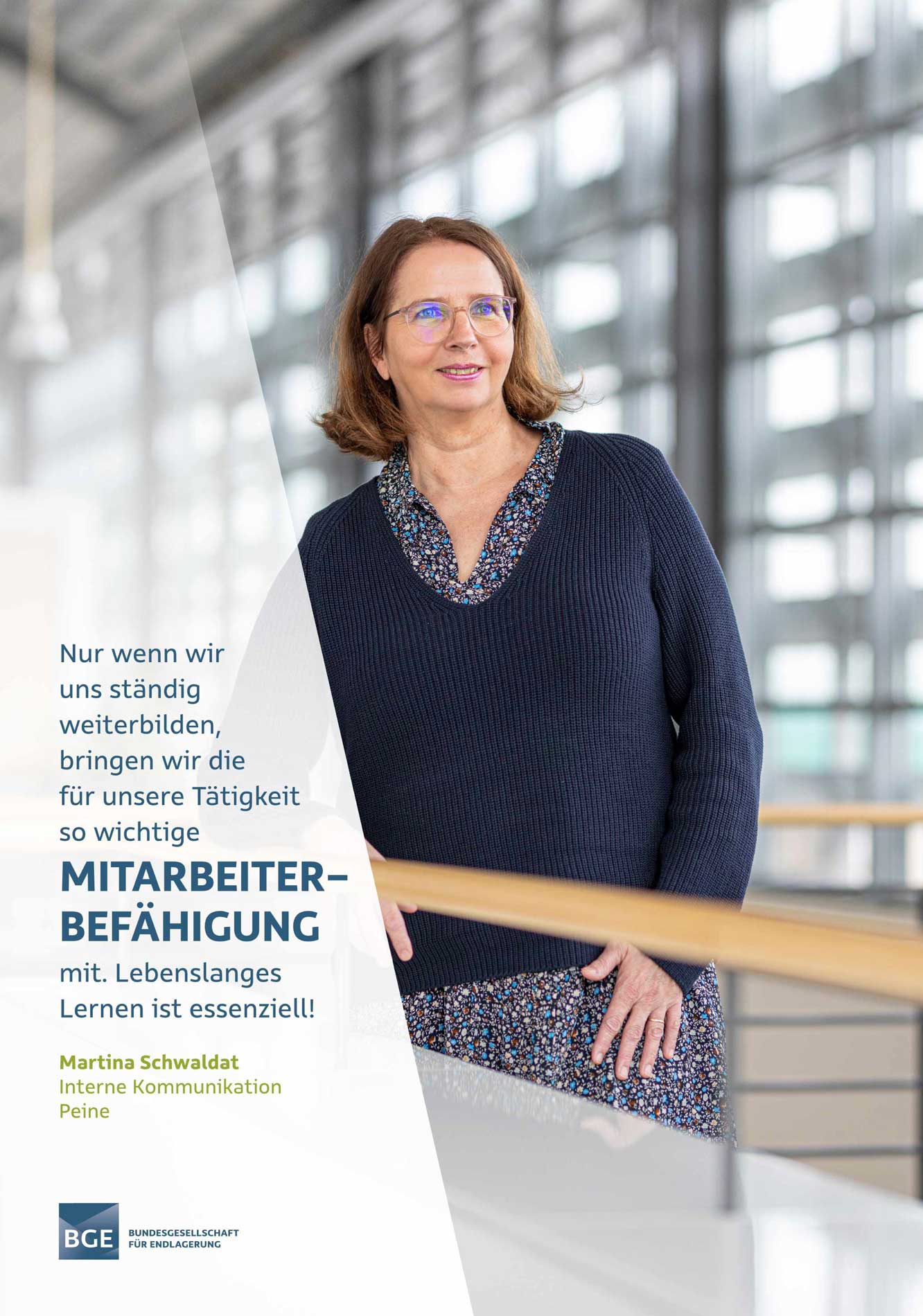 Knowledge
Thanks to our competent and committed staff, we deliver technically outstanding achievements and innovations. By building up a knowledge academy, we share our experience and expand our expertise.
Communication
Through open communication, we achieve transparent and trust-based dialogue with society.
Partnership
We achieve our objectives through fair collaboration with our partners.
Continual further development
We ensure our company's further development through continual improvement processes.
We facilitate the safe final disposal of radioactive waste. We achieve this with people who …
… value trust in collaboration and leadership,
… are prepared to take on responsibility,
… treat each another politely and with respect,
… are competent and engage in personal further development,
… set themselves the highest standards for the quality of their work,
… are reliable,
… learn from mistakes
… and encourage innovation at the company.
Our mission statement is a benchmark for the long-term objectives of our company and for our day-to-day business – it serves as a guide for us and those associated with us. We're conscious of our strengths and qualities, which made us what we are today and form the basis for our future development.