Announcement - Asse II mine
2 May 2017: Stabilisation measures on the second southern driftway on the 750-m level completed
The retrieval of the radioactive waste from the Asse II mine requires comprehensive stabilisation measures. This work ensures the protection of the staff and reduces the risk of the mine's drowning. This is the only way to implement the legal task of retrieval.
On 24 April 2017, the stabilisation measures carried out westward on the second southern driftway on the 750-m level were completed. The work was approved by the competent supervisory authorities in the summer of 2016. Prior to this there had been an exchange with the Asse-2 Monitoring Group (A2B) over many years and an intensive technical risk assessment and a feasibility study had been carried out. An important result of this discussion is that it is now possible to further collect, pump off and use the influent solution in the area of the second southern driftway.
The preparing works for the stabilisation measures started in August 2016, immediately after the required permits and approvals had been granted by the supervisory authorities. The actual placing of the salt concrete (Sorel concrete) started on 10 April 2017. Altogether about 2,100 cubic metres of Sorel concrete were filled in. The former operator of the Asse II mine, the Federal Office for Radiation Protection, documented these works on its website.
The mining areas backfilled with salt concrete are no technical challenge for the retrieval of the radioactive waste. If it is necessary in the scope of the planned retrieval of the radioactive waste to drive new galleries in backfilled areas, this could be done with the technology available in the Asse II mine.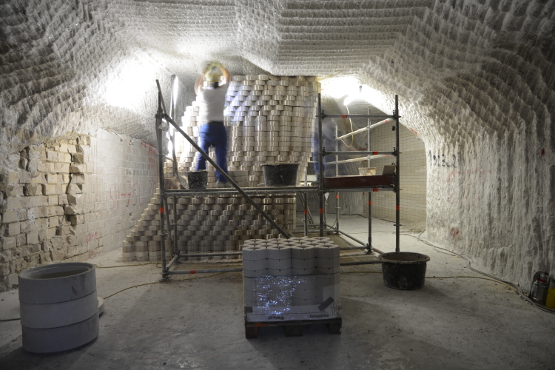 Last works on the second southern driftway prior to the backfilling with concrete