Announcement
7 August 2017: Infomobile on 12 August in Peine, Germany at St. Jakobi Church
On 12 August 2017, the Bundesgesellschaft für Endlagerung mbH (BGE) is coming in the Infomobile to the pedestrian zone (St. Jakobi Church) in Peine, Germany. From 10am to 2pm, all citizens can find out more information in the Infomobile about the BGE and the Konrad final repository.
Animations and films will show the current status of works in the Konrad final repository. Using a multimedia application, visitors can obtain a comprehensive picture of current BGE projects.
Employees are available to answer all questions about the Konrad final repository and about the tasks and projects of the BGE. Appointments can be booked for individual project visits.


Peine, Germany
Saturday 12 August 2017, 10am – 2pm, St. Jakobi Church (Pedestrian zone)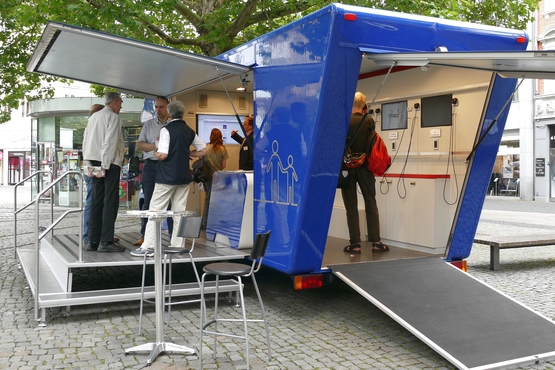 The Infomobile on location in Braunschweig