Announcement – Konrad repository
29 November 2017: Information meeting "Subject: Konrad – Status of construction"
The Bundesgesellschaft für Endlagerung mbH (BGE) hosted a public event at the Info Konrad to inform about the current status of the construction work on the Konrad repository. In his presentation, Dr. Ben Samwer, the competent BGE project manager, outlined the scope of work that could be completed in the current year and indicated the challenges that were to be expected for the coming years.
In fact, the BGE has already completed some of the work, such as the construction and operation of the materials management facilities or the new construction of the Southern headgear on the Konrad 1 mine. Further construction work is in progress, such as the construction of new social and administrative facilities or the refurbishment of the Northern headgear on the Konrad 1 mine. Some projects still need to be started, such as the construction of the building and headgear on the Konrad 2 mine. The foundation work for the ventilation building and the workshop will begin next year.
The underground construction work for the repository has also seen some progress: Recently, the construction work for the bottom (the shaft station) at the 850 metre level commenced. "This is one of the biggest mining challenges within the project", said Samwer. For minimal rock degradation, this work is performed from out of the mine. That means that the excavator enlarging the gallery is standing on a working platform in the middle of the shaft. In the future, the shaft station will be used to transfer the containers onto the transport wagon. Before that, the containers must be transported down shaft 2.
It is no surprise that, within this huge building project, part of the work would be performed smoothly and the rest of the work would meet quite a number of challenges, said Samwer. In fact, the refurbishment of the headframe on Konrad 1, which is protected as a historic monument, went very well. "We are happy that the corrosion had not progressed too far", said Samwer. The work on the headframe is therefore running perfectly as scheduled.
In the discussion following the presentation, the participants were not only interested in the progress of the project, they also asked questions about potential health risks during the future emplacement operations. Arthur Junkert, head of Info Konrad, provided answers to these questions and promised that the subject of safety would be discussed again in future meetings.
The series of meetings entitled "Subject: Konrad" provides a platform for interested citizens to discuss the current work and important topics with the BGE.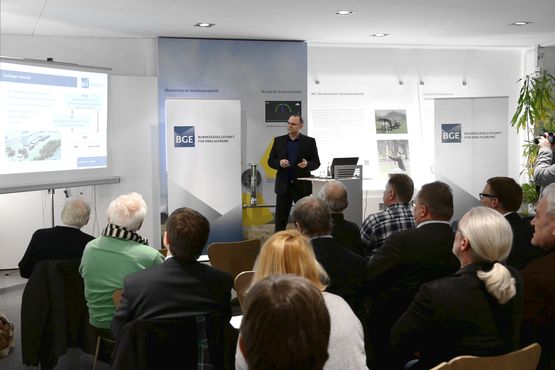 More than 25 interested participants listen to the presentation by BGE project manager Dr. Ben Samwer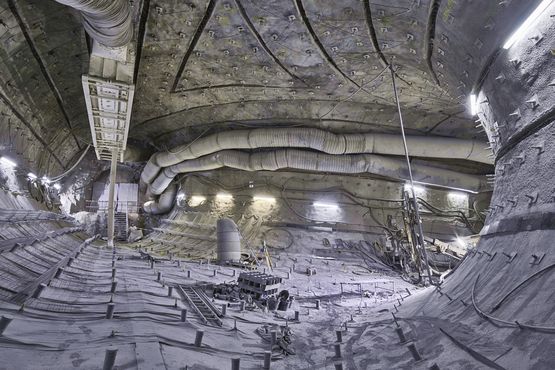 A backfill preparation plant is being built at a depth of 850 metres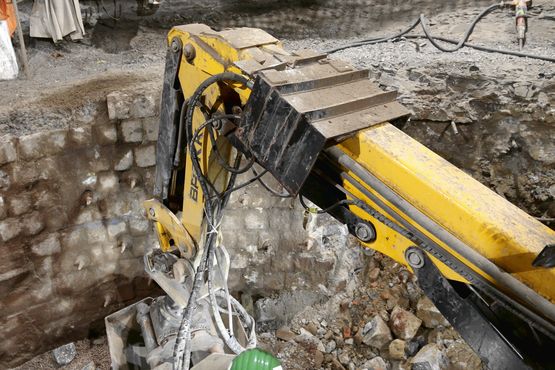 Construction work in the Konrad 2 mine – a working platform for the excavator has been built in the mine