The Gorleben mine is located in Lower Saxony near the Brandenburg and Saxony-Anhalt border. Explorative work has been carried out in the salt bed in Gorleben for several decades, but with several years of interruptions. Its suitability as a repository for highly-radioactive waste is supposed to be assessed with the help of these exploratory measures. Final results are not yet available.
Exploratory work there was discontinued with the adoption of the StandAG (Repository Site Selection Act) in 2014. During the site selection procedure, the Gorleben site is to be treated like any other possible site in Germany.
Public relations work at the Gorleben site has been discontinued. If you have any questions about the Gorleben site, please contact the Salzgitter site.
Adress
Bundesgesellschaft für Endlagerung mbH
Willy-Brandt-Str. 5
38226 Salzgitter

Phone: +49 30 18333-7000
E-Mail: poststelle@bge.de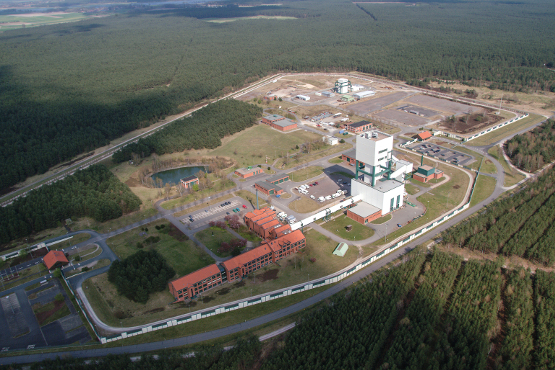 Aerial view of the Gorleben mine